Wi-Fi 7 – Wait is shorter than you think
There is a saying that accurately captures fluff in statistical marketing: "80% of all statistics are made up on the spot, 2/3rds of all people know that."
To satisfy the consumption driven capitalistic mantra Sell Something Now, vendors are quick to provide dates and timelines carefully selected to seduce buyers into making purchases today instead of using their existing infrastructure for longer periods of time.
"Why sell one WLAN solution when you can sell two for twice the price?" – Sales Training 101
Wi-Fi 7 is an interoperability certification program being developed by the Wi-Fi Alliance. Wi-Fi 7 will certify interoperability between devices based on a standard currentlydefined in IEEE draft amendment 802.11be, also known as the Extremely High Throughput (EHT) draft.
The IEEE 802.11ax standard was used to define the Wi-Fi 6Einteroperability certification. With the standard recently published on May 19th, 2021, combined with chip shortagessignificantly impacting production and delivery of Wi-Fi 6E access points, vendors have not had enough time to sell the volume of products necessary to recover the cost of development. In fact, Wi-Fi 6/6E has barely made it out of the gate and now we have the IEEE 802.11be working group and the Wi-Fi Alliance hard at work in developing the next major generation of Wi-Fi technology.
We have already seen real-world demonstrations of Wi-Fi 7 pushing over-the-air speeds in excess of 5 Gbps as recently as September 8th in a cross-vendor collaboration between Intel and Broadcom. Broadcom has even announced availability of a Wi-Fi 7 Ecosystem of solutions.
Looking at the timeline of events for the rollout out of Wi-Fi 6Ehardware: We saw early (May 25, 2021) release announcements from HPE/Aruba Networks. Extreme Networks announced first to ship (July 27, 2021) 6E hardware – out "jousting" HPE/Aruba by a month. Being first to do something is very exciting for marketing campaigns; the market soon heard about: first family of 6E, first to bark about 6E, first to use next gen-cloud with 6E…
Going back even further to examine the timeline of Wi-Fi 6 announcements, the industry witnessed enterprise APs announced as early as January 2019 and shipping as early as April 2019 – 25 months before the ratified 11ax amendment was published.
Being able to sell and manufacture at scale reduces the cost of individual units. The relatively low cost of AP hardware is only possible due to large scale manufacturing. If there was a world-wide market for only 5 iPhone's, they would cost over a billiondollars each. As Apple has easily sold in excess of 1B iPhonesworldwide, the unit price drops to what we see on Apple's website.
The waiting game is real
Perhaps, while waiting to jump on to 6GHz, let the following challenges work themselves out:
• Implement AFC procedures across regulatory domains approving use of 6GHz
• Potential legal fillings against the use of unlicensed Wi-Fi on 6GHz
• Vendors need time to optimize OFDMA scheduling algorithms
• Critical mass of client devices on 6GHz
• Adoption of Wi-Fi CERTIFIED 6 Release 2 (Wi-Fi 6R2) with power and performance enhancements
• Integrate Wi-Fi 6/6E learnings into Wi-Fi chipsets andfirmware
Automated Frequency Coordination (AFC) programs have yet to be implemented allowing outdoor APs to transmit on 6GHz or using standard power. AFC rules will vary based on the country/regulatory domain. In theory, an AFC system would manage unlicensed operation of radios between 5.925-6.425GHzand 6.525-6.875GHz (as defined by the FCC). Assignment and changes to radio channel and power settings would be assigned by the AFC system for radios operating in the AFC bands outdoors or with standard power (SP). Testing procedures have been developed based on FCC regulations, but such a system has not been implemented in the US and the rules may need changes as AFC systems are introduced in other domains.
Fixed wireless systems such as point-to-point wireless microwave links have long been operating in the 6GHz band. Many of these existing systems are used by energy utilities, emergency responders, and transit authorities. When the FCC approved use of 6GHz for Wi-Fi, these networks were placed at risk for interference and disruption. Bill Menezes from Gartner Research has even suggested proponents of unlicensed use of Wi-Fi in the 6GHz band wouldn't have devised an AFC system if they didn't believe the possibility of interference was real.Another concern is that radios can lose access to the AFC system for up to 24 hours before needing to check with the AFC to receive potential new channel or transmit power settings. Conceivably, Wi-Fi 6E radios could be interfering with other wireless systems for up to 24 hours
OFDMA is by far the most impressive feature in 802.11ax and has long been used in the cellular world. Effectively, APs can schedule client transmissions in both upstream and downstream directions. This is part of the high efficiency approach to 11ax, but this efficiency comes at a cost. Overhead frames must be transmitted back and forth between the AP and its clients. This exchange is used to provide the AP with information to make decisions on how to sequence communication between multiple clients. Payload size and QoS settings are some of the factors considered when assigning subsequent transmit opportunities and resources units (RU). As call-flows and payload size in Wi-Fi differ from cellular, it will take some time before OFDMA scheduling algorithms are optimized or even regularly used for 11ax transmissions.
While there have been over 792 devices commercially launchedfor use on 6GHz, critical mass adoption has not been reached to justify many business decisions for upgrading to Wi-Fi 6E. Apple devices contribute to the bulk of devices on most WLANs. As a result, when Apple adopts a new technology, it quickly reaches critical mass. The recent launch of the iPhone 14 with lack of 6GHz support shows business requirements areinsufficient over the next year to justify inclusion. We will have to wait until at least next September before the iPhone supports 6GHz, if not later.
Wi-Fi 6 CERTIFIED 6 Release 2, released in early 2022, added additional benefits to WLAN performance and power management. Support for uplink multi-user MIMO was added, offering improvements to network performance and reduction in latency while video conferencing, uploading documents, or any other mission-critical applications requiring greater uplink capacity. Furthermore, Wi-Fi power management was enhancedwith additional power saving features for IoT and IIoT, including:
• Spatial Multiplexing Power Save (SMPS)
• Dynamic SMPS
• 20MHz Station (20MHz STA)
• Broadcast Target Wait Time (TWT)
• Basic Service Set (BSS) Max Idle period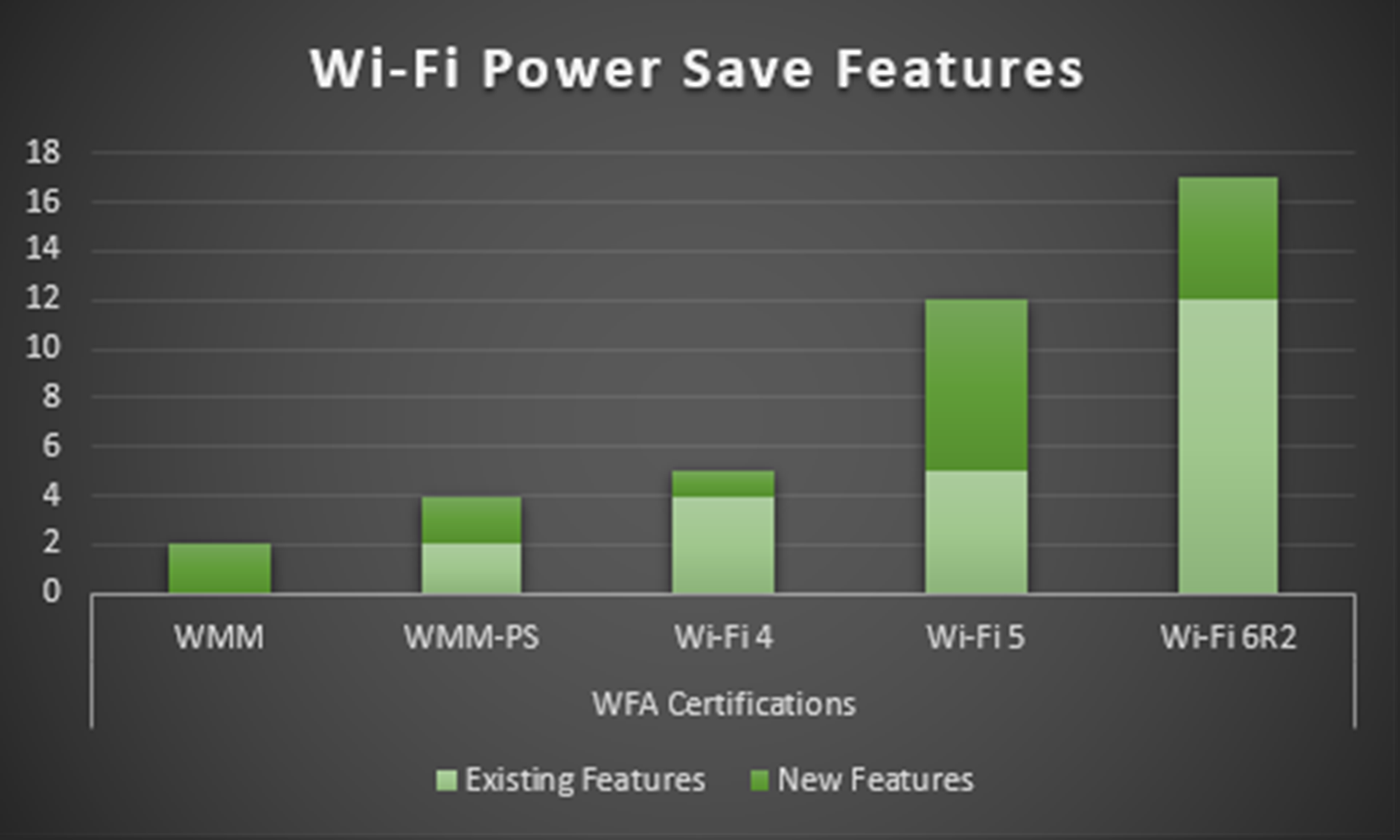 Lastly, several technology conferences hosted by Wi-Fi vendors were successfully hosted on 5GHz WLANs. These conferences include the likes of HPE/Aruba Atmosphere 2022 and CiscoLive2022. As it turns out, high density or large public venues (LPV) Wi-Fi work well when implemented following best practices for design and configuration.
Wi-Fi 6/6E is really an experiment with innovative technologyand spectrum with strong potential to change the future of Wi-Fi. For the first time with the 802.11 standards, there was a focus on efficiency rather than throughput while at the same time gaining access to 1200MHz of additional spectrum. These advancements have forced vendors and wireless designers to re-think old dogmas of design best practices.
It will take the lifecycle of Wi-Fi6/6E to learn and adopt modern design practices as well as iterating though several scheduling algorithms… and once we wrap our heads around this, Wi-Fi 7 will be shipping and ready to implement. With Wi-Fi 7, designers will have a clean slate to get 6GHz design correct and implement proven features.
Sláinte!
---
Resources
Official IEEE 802.11 Working Group Project Timelines – 2022-09-08
https://ieee802.org/11/Reports/802.11_Timelines.htm?utm_content=buffer84142&utm_medium=social&utm_source=twitter.com&utm_campaign=buffer
FCC urged to test for 'dangerous' interference from Wi-Fi 6E
https://www.networkworld.com/article/3672432/fcc-urged-to-test-for-dangerous-interference-from-wi-fi-6e.html
Intel and Broadcom Achieve First Cross-Vendor Wi-Fi 7 Demo: